Journal Entry:
Wed Apr 15, 2009, 11:31 PM
XD

and I had a Hetalia Theme B Day Party which was unexpectedly ._. big XD people was popping from everywhere and it was quite exciting *_* XD we each had a tag with our country and we had different games during the party XD a piñata with the shape of a world that

decorated but fell after three hits ;_; FAIL... at least itw as myt fault XD by the way I played South Italy while

was North Italy and

was Germany XD
;__; Thank you everyone guys it was AWESOME XD it's been a while since I had so much fun!!!!!! We ate pastaaaaaaaaaaaaaaaaa and ... many random stuff
And here are some wonderful gift I got for my b day ;__; omg I lov my friends they are the best thing evaaaaaaaa
:thumb119500986:
Me da flojera escribirlo en español... pero chicos en serio son unos amigos increibles y fue todo un honor y ung usto tenerlos en... urr bueno no mi casa en casa de Gina por que en la mia no caben, pero su amistad significa mucho para mi. Esperemos repetir estos buenos momentos mas seguido!
Ale
PD. Gracias Jeso XD proximo año Harry Potter
;_; gracias por seguirme la corriente con las raras ideas
Oh yes.. XD today is my B day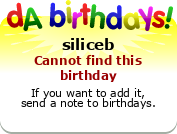 Mood: Joy